No matter what type of business you're running, there are certain legal obligations that you need to meet. Your corporate management should know the regulations and laws that govern your business. By staying completely compliant, you can reduce legal problems that can impact your operations.
Ignoring compliance can result in penalties, fines, lawsuits, work stoppages, and even complete shutdown. The last thing you want to happen is for your small business to face huge claims from your employees or clients. To ensure your business will meet your legal obligations, here are some strategies that you can follow:
1. Create or update employee handbook
An employee handbook is necessary whether you have one or a hundred employees in your company. This makes sure that the business policies are clearly communicated, implemented, or agreed upon. Aside from the operating policies, you can also use the employee handbook to introduce the company's mission, values, and culture, especially to the new staff.
Other things to include are the treatment and storage of employee data, workplace conduct, and acceptable computer use. The handbook should also be updated accordingly, particularly during major changes like a transition to remove work. With an employee handbook, your HR can easily reinforce compliance by communicating workplace expectations and company policies.
2. Check remote staff's compensation
If you have remote staff or have just transitioned the entire workplace into this setup, be mindful of workers' compensation. Depending on the reason for working at home, a worker may be covered under worker's compensation. Failing to provide or neglecting this can result in expensive employee claims. At the same time, note that remote workers may still be eligible for compensation if they suffered from a work-related illness or injury.
To prevent work-related home injuries, invest in proper employee training. It should include topics such as proper ergonomics, healthy habits, or even work-life balance tips. You can create a checklist, short video, or infographic that you can easily share with your team.
3. Conduct annual compliance reviews
Performing compliance reviews at least once a year can help you better manage the risks. You can use this assessment as a guide in making essential changes in the policies or workplace expectations. This way, you can remain compliant with the federal and state requirements. Even a small business owner like you should have an HR benefits administrator to monitor the risks properly. If you're unfamiliar with the risk landscape, find a compliance expert who can assist you in preventing issues. In doing so, you can have more time to focus on other crucial business tasks like improving products or seeking big clients.
4. Outsource accounting tasks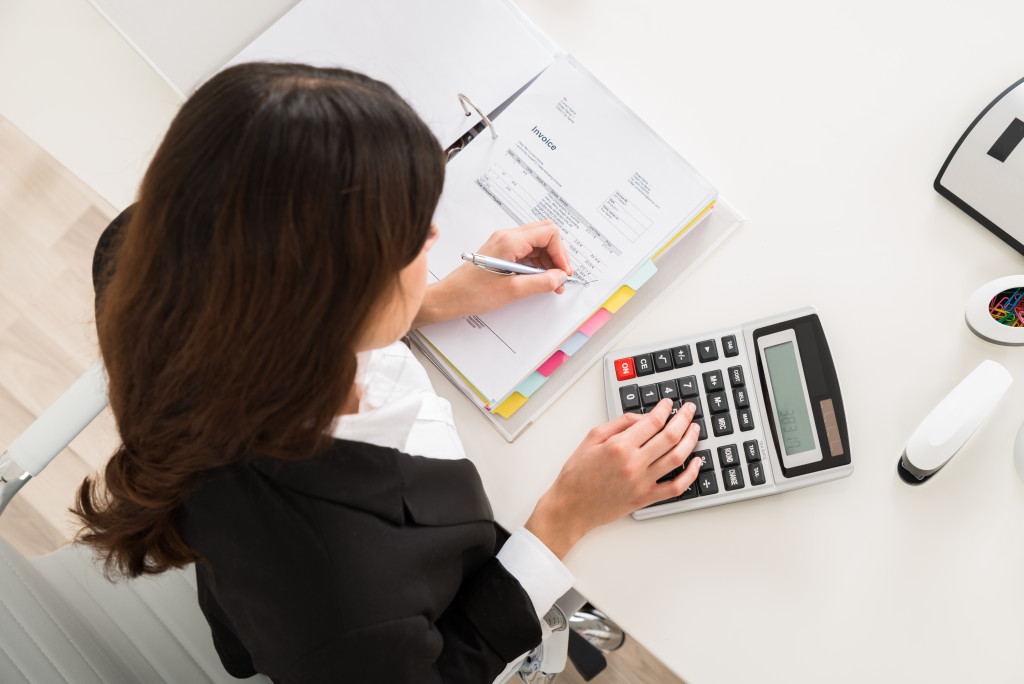 Handling accounting and bookkeeping tasks for a small business can be a challenge. Issues in your business finances could lead to big compliance problems. To ensure your business meets finance laws and regulations, you can hire a professional accounting company that offers tax and payroll services. With such solutions, you can process the payments and other accounting tasks on schedule. At the same time, you can have an accurate financial report without getting overwhelmed by the processes involving the verification of assets, expenses, and revenues.
Hiring a qualified expert will also help you keep track of any relevant and new laws and regulations that must be applied to your processes. Fret not because most of these accounting services are cost-effective.
5. Carefully investigate the complaints
A small business can't stay compliant without addressing the concerns of the employees. Always listen to what your people have to say and work on the right solutions. If you're faced with an employee complaint, conduct a proper investigation. Such complaints are typically related to discrimination, harassment, and safety issues. Create and follow a standard investigation procedure that includes the interview of the complainant and other individuals involved.
During the investigation, an HR professional and a manager must be present. This prevents any further disputes during the interviews or discussions. You should also protect the confidentiality of the case, as well as the alleged victim. Moreover, the investigator should possess relevant knowledge and skills to handle the complaints. An investigator can be selected from your HR staff, or you can hire third-party professionals. Other companies use a team approach to access many ideas and resources that a single investigator won't be able to provide.
Maintaining proper compliance within your small business cannot just protect you from expensive legal issues. But it can also help you improve workplace safety, boost employee engagement and retention, enhance public relations, and foster customer trust. Implement well-designed policies to cater to your business' internal and external aspirations.