Not everyone is cut out for the nine-to-five world. Some people would much rather face multiple challenges a day and revel in the uncertainty than spend their whole careers glued to their desks; bounded by a set of stringent corporate rules. It's perfectly fine to take the road less traveled, especially if it can make you feel content with how far you've come.
In fact, having the ability to decide how you make your mark in the world is an admirable trait. It's a privilege that not everyone can enjoy, but it's an opportunity that should always be grabbed when it presents itself. Like when you choose to run your own remote business from the comfort of your home.
Businesses today no longer have to go through what past entrepreneurs did—having to secure a physical location, filing licenses and registrations in person, or purchasing hardware and equipment for the office. This is because business owners like you can save on so many overhead costs by eliminating the need to reside in an office.
Basically, all you will need to start managing your company is to create a definitive business plan and secure ample funding to get it off the ground. But before you can focus on your day-to-day operations, there are certain things that you have to do and learn. So, here are some tips and useful tools for you:
Build a Team of Talented and Like-minded Individuals
Before you get ahead of yourself and think that you can do everything on your own, remember that a great company is built by its employees. And as a business owner, your employees are going to be your biggest assets because, without their help, you won't be able to achieve your goals for the company.
That's why you should take the time to scout the talent pool for potential employees while you're still starting. By taking the personal route to secure hires instead of depending on outsourced human resource managers, you can build better relationships with your soon-to-be team of like-minded individuals.
You don't have to hire a person for every position in your company all at once, especially if you don't have the money to afford them. Good talent is worth the expenditure, but you have to wise about how you spend your limited budget. Start by filling the most important roles, and work your way from there.
Maximize Collaborative Platforms and Services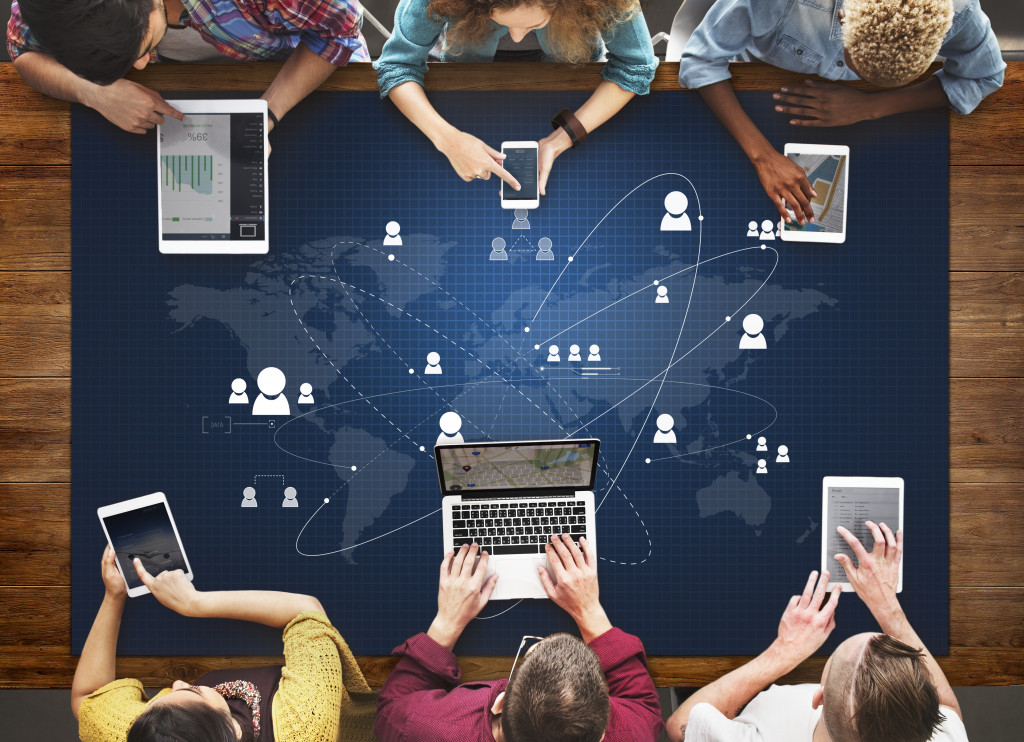 Since you're running a remote company, you won't have the privilege to conduct face-to-face brainstorming sessions and meetings as often as you'd like. But that doesn't mean that you can't do it through other ways, such as through videoconferencing or real-time communication portals.
There are plenty of collaborative platforms and services that you can use to communicate with your team. Open and healthy communication is essential to a business that's still finding its roots, so you must do your best to facilitate professional conversations with your team members.
But aside from work meetings and calls, you can also use these collaborative platforms to maintain good employee morale. Keep in mind that with a remote working setup, constant communication is imperative for increasing productivity and establishing better relationships with your employees.
Create a Professional Workplace Environment
One of the perks of having a remote business is that you can work anywhere in the world as long as you have a stable internet connection. But even if you had the option to work from another country, most of the time, you're just working from the comfort of your own home.
However, there can be times when your house will feel too stuffy or caging. When this happens, it's a sign that you need a change of scenery because the feeling of being caged can take a toll on your productivity. That's why you need a virtual office with its own mailbox and business address.
Before you raise any questions, you must know that this semi-private office is basically just a co-working space that you share with other professionals. You won't have to work there full-time if you prefer working from home, but it can be nice to have workplace options, especially if it's at a much cheaper price than having your own office.
Being your own boss isn't all rainbows and butterflies; it's more similar to putting out one fire after another. But that kind of exhaustion can be fulfilling because you know that you're working towards a future that you are building for yourself and that you're not just succumbing to a lifetime of 9 to 5s to make ends meet. By taking this path, you're actually doing what makes you happy and content.